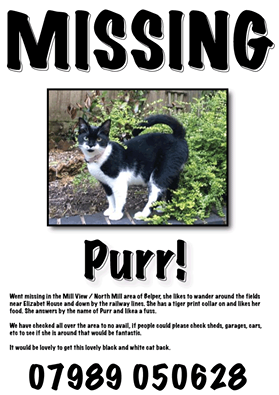 Purr
---
Posted Date:
26th October 2016
Went missing in the Mill View / North View area of Belper, she is a Black and White – Short Hair Domestic.
She likes to wander around the fields near Elizabeth House and down by the Railway Lines. She has a Tiger Print Collar on and likes her food. She answers to the name of Purr and likes a fuss.
We have checked all over to no avail, if people could please check their shed, garages and cars etc to she if she is around that would be fantastic.
If found please call: 07989050628